EVAN SOLANO
Workshop 1:  Print Matters: News design 101
Contrary to popular belief print is not dead, far from it. It is, however, being stifled by complacency and apathy to think outside the grid, and it's time to put an end to that trend. In this workshop, learn the basic of modular and conceptual news design. We cover the fundamentals: headline hierarchy, designing to a grid, setting up your front page, learning the importance of dummying pages and about design pitfalls to avoid. Learn how the process of art directing, conceptual design and planning can save your front page with conceptual design. Note: If time permits, we will do Q&A and design tips so bring copies of your publication, along with any questions you have!
Workshop 2:  So, how do I Adobe?
One of the most overwhelming things for new, inexperienced student journalist is a blank document in Adobe Photoshop and InDesign, trust me, I was there too. Learn tips and tricks to help navigate through the Adobe Creative Suite. This workshop is geared for students who have minimal InDesign and Photoshop skills and experience but is open for all students who want to sharpen their cutout skills, design aesthetic, and learn some new, creative ways to make the production workflow easier. Highly encouraged for all students who are on the design/production spectrum. Please note: If you have a laptop with Adobe CC or any of the lower CS suites, BRING IT! The goal is to have this be a hands-on experience! We will also have a design roundtable and Q&A so bring copies of your publication along with any questions you have with how to make your workflow easier!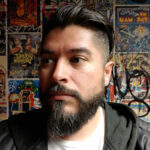 Evan Solano, Page Designer
Evan is a print designer currently working at the Southern California News Group designing the Riverside Press-Enterprise, Orange County Register and Los Angeles Daily News. He is also the design director for a new alt-quarterly Los Angeles-based magazine titled theLAnd, which debuted earlier this year. Evan began his journalism career at Citrus College in Glendora where he served as both Editor-in-Chief of the Clarion newspaper and Logos Magazine during his five semesters at Citrus, winning many design awards at JACC conferences. He has served as the SoCal Student Representative for the JACC board of directors in 2015-16 and is currently the industry rep on the board. He is a self-proclaimed font nerd who loves Lakers basketball, Morrissey and good uses of Futura.