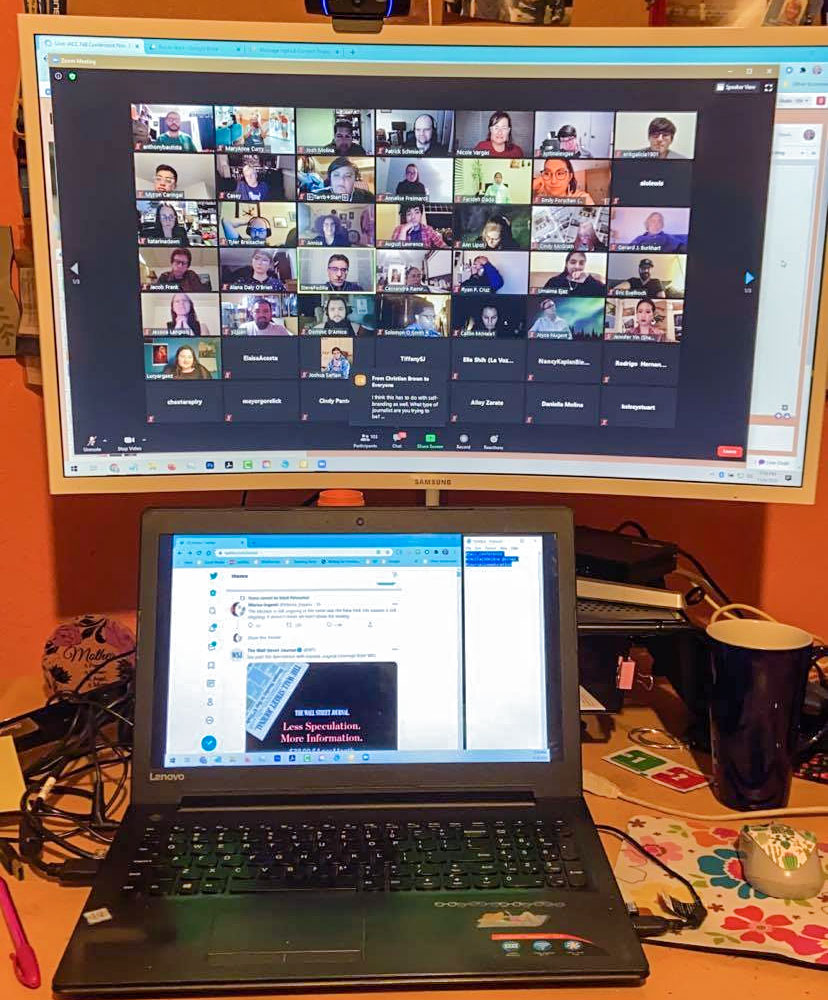 More than 215 faculty/teaching staff and students from 30 colleges attended
NOVEMBER 8, 2020—One of the positive aspects of attending a conference is looking forward to seeing long-time friends and colleagues, meeting new friends, networking and learning new skills. However, thanks to COVID-19, it's been over six months since people have been allowed to gather in large groups.
That didn't stop the 217 delegates who virtually came together this past weekend, for the first time, in a virtual environment, when the Journalism Association of Community Colleges (JACC) held its 2020 Fall Conference on Friday, Nov. 6 through Sunday, Nov. 8. The delegates included faculty, staff and students from 30 community colleges throughout California.
Everyone was delighted to hear keynote speaker and Los Angeles Times Editor Steve Padilla as well as the opportunity to gather in intimate online workshops with industry professionals covering topics ranging from traditional journalism to the newest, innovative tools and tips available today. Students could also participate in on-the-spot contests covering journalistic-style writing and multimedia skills.
The event was hosted using the QiqoChat platform, which provides a social wrapper around Zoom meetings so participants can move themselves in and out of Zoom spaces.
"What I liked was the way it was structured and how the website worked, the fact that there were different rooms and we were able to jump between them, and that we also had the breakout room for students 'to hang,'" said Daniela Osso, the social media editor for the Skyline View at Skyline College.
Traditionally, the fall conference is split between the regions of Northern California and Southern California, but combining the two in this new virtual space proved to be successful.
The organizers were aiming to create an experience that did not feel like " just a bunch of Zoom meetings, and I think we succeeded," said JACC Faculty President Cecilia Deck. "Feedback has been overwhelmingly positive. Students and faculty gain so much when we get to interact with like-minded people from other campuses."
Because the statewide convention planned for March 2020 had to be cancelled, JACC lacked student leadership for several months. But new leaders were elected at the conference, including Student President Sean Davis (Cerritos College), Cheetara Piry (Riverside College) representing SoCal, and Ariel Caspar (American River College) representing NorCal.
Tara Cuslidge Staiano, from San Joaquin Delta College, offered to step up as the new NorCal President, representing the faculty from the colleges north of Fresno. Her term will start in March 2021.
The event concluded Sunday afternoon with the highlight everyone waits for, the awards presentation, hosted live on Zoom with emcee SoCal Faculty President Nicole Vargas. The complete list of award recipients will be available on our website at www.jacconline.org.
# # #
Related Posts via Categories