Remember to select SoCal or NorCal
2019 JACC Publication Contests
rules/criteria
DEADLINES: We've extended the deadline! The contest entry deadline is now Monday, July 8, 2019. The contest fee is still due Sunday, June 30, 2019. 
The BetterBNC website for the NorCal and SoCal regional publication contests are live and accepting contest entries. Click the button to go to login; once logged in, you need to select either the 2019 JACC NorCal Publications Contest or the 2019 JACC SoCal Publications Contest, depending on the region you're in.You'll also see a button to download a copy of the 2019 JACC Publication Contest rules and criteria.
The contest entry site accepts: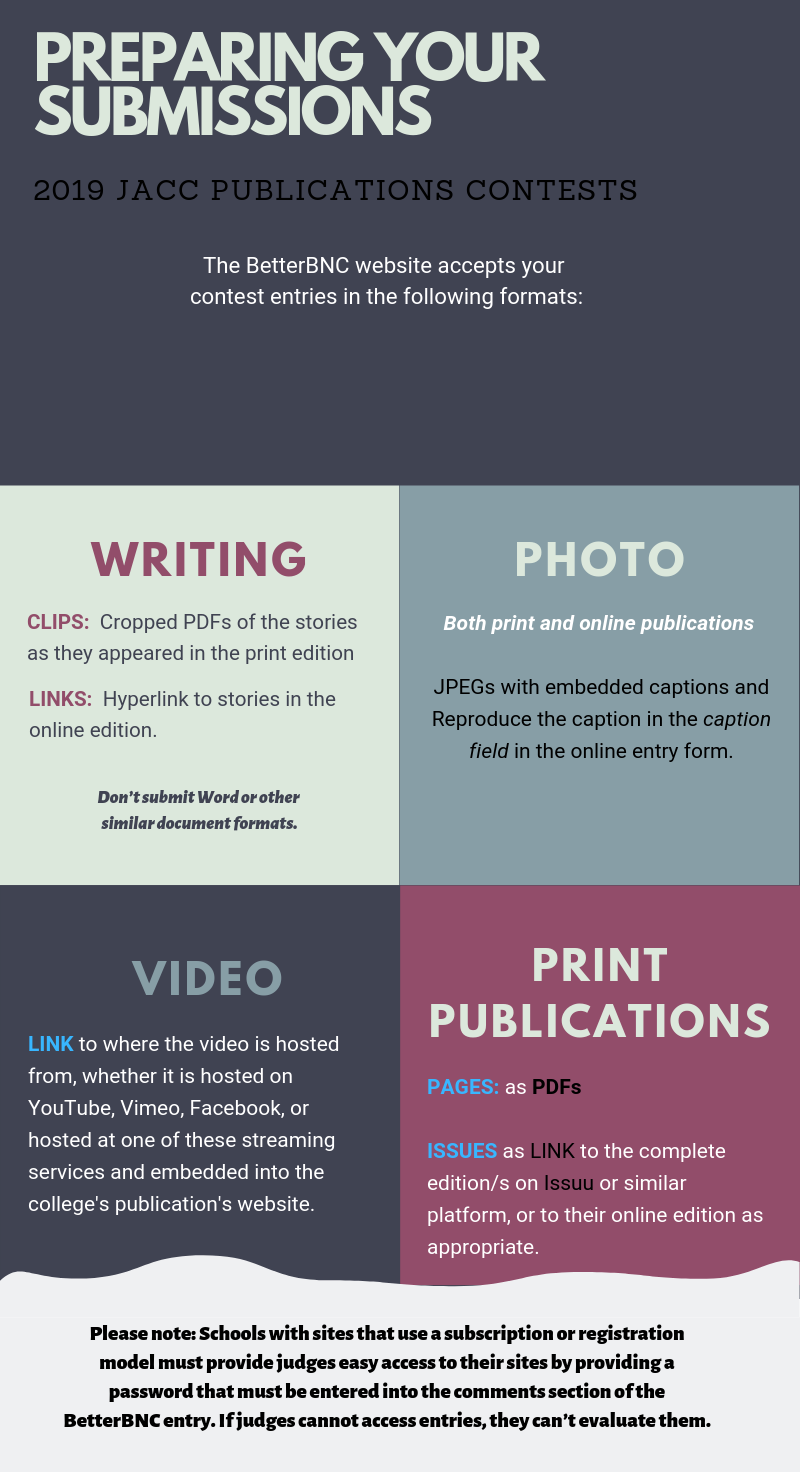 If you encounter issues remembering your login and password, here's a tip: the login to the BetterBNC site is by specific contest so some folks have two different logins and passwords, one for the state contest and one for regionals. If you try the login/PW combination you used for state and it does not work, try the one you used for regionals last May or June. If that fails, email Cindy and she will look it up for you, or contact the BetterBNC support number (360) 427-6300 Monday through Friday, 8 a.m.-5 p.m. Pacific Time.
The contest entry fee for regionals is $100 and the Wild Apricot event site has been live since fall for member colleges to register for their regional contest and generate invoices. If you have not done so already, please make sure to register before you enter the contest so your invoice payment paperwork is in the pipeline before the end of the fiscal year if that is a policy at your college.
We will once again be offering colleges the opportunity to bundle contest fees with membership fees starting next fiscal year. However the regional contests have a June 30 deadline, the end of the current fiscal year, so you will still need to pay this year's regional contest entry fee separately if you did not bundle this year.
We will be sending out membership information for 2019-20 that includes bundling for the 2020 state and regional contests.