2018 JACC State Convention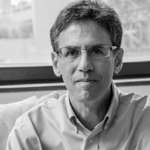 LeVine is the Future Editor for Axios, a startup news site created by the founders of Politico, where he looks at the geopolitics, economics and social impact of robots, artificial intelligence, and new energy technology.
He is also a Future Tense Fellow at the New America Foundation and an adjunct professor at Georgetown University, where he teaches energy security in the graduate-level Security Studies Program.
Previously, he was a foreign correspondent for 18 years in the former Soviet Union, Pakistan and the Philippines, running a bureau for The Wall Street Journal, and before that writing for The New York Times, the Financial Times and Newsweek. Before joining Axios, Steve was on the team that launched Quartz, where he served as Washington Correspondent for four years.
He was Editor-in Chief-of the RoundUp at Pierce College in the '70s.  In fact, an actor portrays him in the film, "A Mighty Heart," about Danny Pearl's death - JUDY HOUSE, JACC PRESIDENT 
He has authored three books, most recently, "The Powerhouse: Inside the Invention of a Battery to Save the World." This is the story of a "race among top U.S. scientists, Silicon Valley visionaries, and rivals spanning China, Japan and elsewhere. All are vying to lead the development of a battery that will enable electric vehicles to challenge the dominance of the internal-combustion engine" according to a review by the Wall Street Journal. 
Random House published "The Oil and the Glory," in 2007, which chronicled the struggle for fortune and power on the Caspian Sea. BusinessWeek magazine selected it as a Top 10 book for the year. In 2008, Random House published "Putin's Labyrinth," a profile of Russia through the life and death of a half-dozen Russians. Both books are on numerous university reading lists.
Steve lives in Washington, D.C., with his wife, Nurilda, and their two daughters.
Visit his website at stevelevinebooks.com for more information..
Related Posts via Categories