HECTOR BATISTA
Why Good Storytelling Matters
With the advent of the internet and social media everyone is competing for your attention. Be it on social media, television or even at the gas pump, storytelling is constantly around you. Today we'll look at how this skill transcends careers in the digital age and why compelling storytelling matters now more than ever.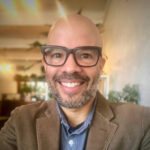 Hector Batista, Video Producer – Wells Fargo

Hector is a Video Producer currently working for Wells Fargo. His career started over 20 years ago working in the advertising production space in New York City. After advertising, Hector worked in film production with an emphasis in the camera department. His next job is where he was bitten with the journalism bug working for New York City's CSPAN equivalent. For the next 15 years he worked for most of the major television news organizations including ABC, NBC, CBS and Telemundo. Moving west seven years ago to Los Angeles, he has worked for Univision, Fusion and ABC News. He is a fan of beautifully designed things, especially architecture and furniture.
Related Posts via Categories